While food donations are vital, the majority of the food distributed each week is actually purchased from Food Gatherers.  Costs vary throughout the year depending on subsidies and grants but now exceed $30,000/year.  Funding from St Clare's, Temple Beth Emeth and Muslim Social Services underwrites about 20% of this total.  The other 80% comes from generous donations from individual, local businesses and fund raising efforts.
We are currently working to provide a simple on-line mechanism for you to make monetary donations to the Back Door Food Pantry. Please check back soon!
In the mean time, you can make a tax-deductible donation … the old fashion way … by mailing a check made out to Back Door Food Pantry to: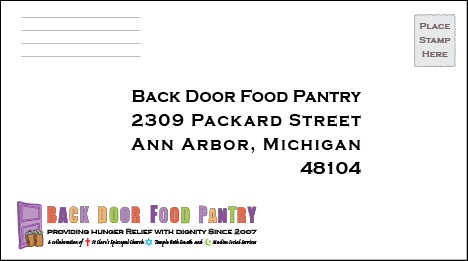 100% of your donation goes to purchase food distributed at the food pantry.  Thank you very much for your support!