Funding to provide food for our patrons is provided by our two sponsoring congregations
St Clare's
and
Temple Beth Emeth
as well as by the generous donations of individuals, local businesses, grants, and fund raising efforts. 
Donate by Check: If you are interested, you can also help feed the hungry in our community by making a tax-deductible donation … the old fashion way … by mailing a check made out to Back Door Food Pantry to: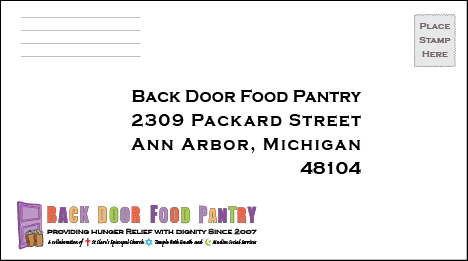 100% of your donation goes to alleviate food insecurity!
Donate On-Line: The finances for the Back Door Food Pantry are managed by St. Clare's Church, so St. Clare's Church is mentioned in the header of the donation box.  Ignore this text because all donated funds go directly to the Back Door Food Pantry.  So, to donate to the Back Door Food Pantry, simply click the Donate link below, enter the amount you wish to donate, and then press the Continue button.  You will be asked for standard credit card information and your email address.  Press Continue again, and your donation is made. Even though you will receive a Tax Acknowledgement from St. Clare's Church, all donations have gone to the Back Door Food Pantry.
Donate Food: While most food provided to our patrons is purchased from or donated by Food Gatherers, the Back Door food Pantry also  appreciates and accepts donations of non-perishable food and personal care items. All donated products must contain the sealed, original packaging with labels listing contents and possible allergens. Also food donations must not be past the labeled expiration or "use by" date.
Please do not drop off any unsolicited donations inside the BDFP.  We are also temporarily  requesting  donors to check first on our needs and room for accepting donations before they leave donations of non-perishable food  and toiletries in the BDFP barrel inside the Genesis coat room near TBE's  gift shop. We will periodically publish suggestions of our current needs.