Funding to provide food for our patrons is provided by our two sponsoring congregations St Clare's and Temple Beth Emeth as well as by the generous donations of individuals, local businesses, grants, and fund raising efforts. and
If you are interested, you can also help feed the hungry in our community by making a tax-deductible donation … the old fashion way … by mailing a check made out to Back Door Food Pantry to: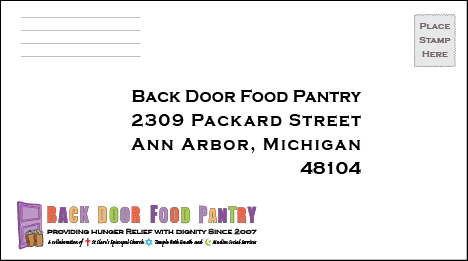 100% of your donation goes to alleviate food insecurity!
While most food provided to our patrons is purchased from or donated by Food Gatherers, the Back Door Food Pantry also accepts and appreciates donations of food and toiletry products (dental, shampoo, lotions, deodorant). All donated products must have the original labels listing contents and possible allergens and food donations must not be past their labeled expiration date.  When the pandemic ends, there will be a bin for donated items in the coat room next to the elevator in Genesis sanctuary building.