Location:    2309 Packard St, Ann Arbor, MI 48104.
Safety: For safety in the time of COVID, patrons must wear a mask and observe social distance guidelines.   
Food Pickup During Covid: Pre-boxed food and bagged produce are distributed by volunteers on the sidewalk under the tents outside the Social Hall.  Either by car or by foot, enter the parking lot, keeping the house and the sidewalk on your left. Drive (or walk on the sidewalk) toward the social hall and wait for a volunteer to assist you.  Masks must be worn!
Hours: Curbside food pickup at the pantry occurs every Thursday from 4 – 7 PM.  Drive around the circle to the distribution tent on the sidewalk.  Stay in your car, a volunteer will meet you.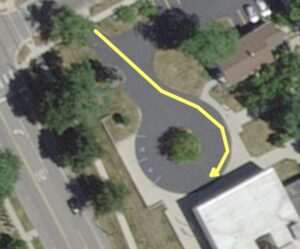 The Back Door Food Pantry driveway is located off of Eastover (see map below) or click on the map below to bring up Google Maps.