Location:    2309 Packard St, Ann Arbor, MI 48104.
Safety: For safety in the time of COVID, patrons must wear a mask and observe social distance guidelines.
Food Pickup During Covid: First masks must be worn at all times!  Patrons arriving by car, bicycle, or foot, will be greeted by a volunteer in front of Wisdom House where the Back Door Food Pantry is located (see the map below).  The volunteer will register the patron and provide them with an order form which will allow them to select desired items (milk, protein, canned goods, dry goods, etc.) by marking an order form using a provided pen. The order form and instructions supports four languages: English, Spanish, Arabic, and Chinese. Patrons not speaking any of these languages should be prepared to find a way to ask for additional assistance.  Once the order form is filled out by the patron, a volunteer will hand the patron a number, will take their filled-out order form, and will offer them a bag of fresh produce.  Patrons will then drive or walk (follow the yellow line on the map below) to the rear door of Wisdom House and wait for the order with their number to be delivered.
Hours: Food pickup at the pantry occurs every Thursday from 4 – 7 PM.  Patrons should drive around the circle and stop either at the Pantry sidewalk or behind cars already lined up for service.  Stay in your car, a volunteer will meet you.  Should our operation hours be inconvenient please call Food Gatherers at (734) 721-2976 or check their website for the location and hours of other food pantries.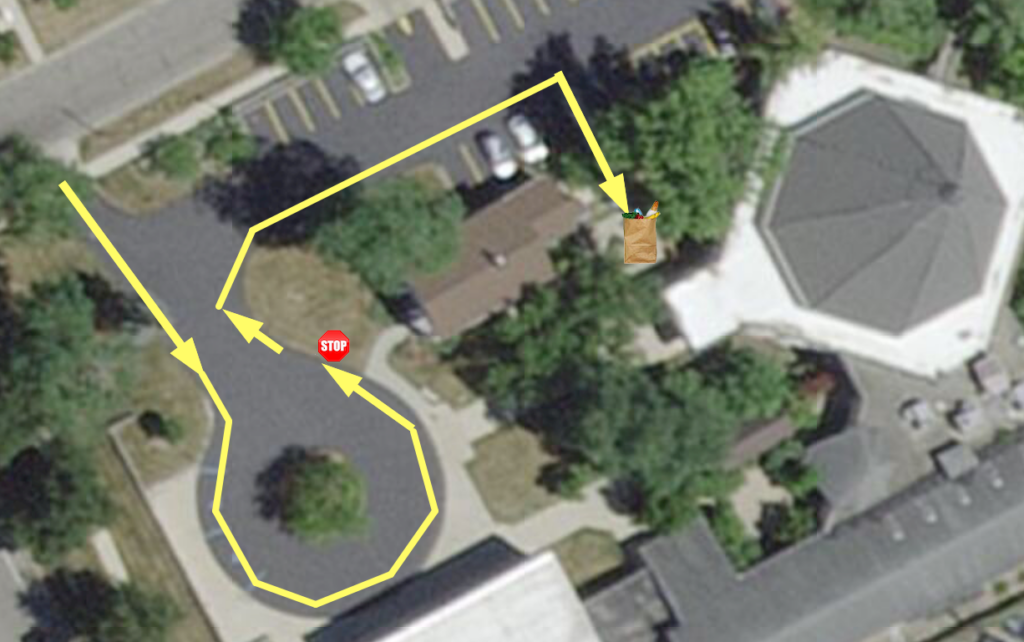 The Back Door Food Pantry driveway is located off of Eastover (see map below) or click on the map below to bring up Google Maps.